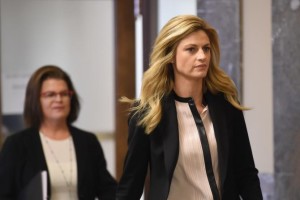 The lawsuit arises out of an incident at the Marriott Hotel in Nashville, where Ms. Andrews was secretly filmed while undressing in 2008, during the time she worked for ESPN. 
The jury determined 51 percent fault on Michael David Barrett, the man who filmed Ms. Andrews, who also served 2.5 years in federal prison after pleading guilty to interstate stalking. West End Hotel Partners, the hotel owner, and Windsor Capital Group, the hotel management company, are responsible for the other 49 percent.
These kinds of cases can be difficult to understand, leaving some people to wonder: "How could a jury could hold the hotel liable for $26.95M?"
On the one hand, this seems like the act of one devious man. On the other, hotels have systems and policies in place to protect its customers from all types of people, including stalkers.
The Marriott Hotel in Nashville made three key mistakes that doomed them from a liability standpoint:
1)      The stalker called the hotel before his stay and asked if Ms. Andrews was staying there. The hotel confirmed that she was a guest.
2)      The stalker asked the hotel if he could book the room next to Ms. Andrews for his stay. The hotel booked him into the room requested.
3)      The hotel should have called Ms. Andrews to verify that she was expecting and gave permission for a man that called in to be placed next to her room. They did not.
How does this case relate to our law practice?
In handling family law matters, we often instruct our clients in relationships with domestic abuse to have an escape plan for themselves and their children if a given situation spirals out of control. Sometimes this escape plan involves going to the home of a trusted family member such as a parent or a sibling. If that is not an option, it might mean going to a hotel nearby while the situation cools off.
It is easy to imagine a scenario where a domestic violence abuser seeks to find its victim through a similar scheme that Mr. Barrett used to track Ms. Andrews. This could lead to physical harm beyond the type of invasion of privacy we saw in the Andrews case. Therefore, this case presents a major victory for the privacy rights of individuals, as well as the protection of individuals that utilize hotels as a safe harbor.
Washington Post Article 3/01/2016 – The ordeal of ESPNs Erin Andrews Target of Nude Peephole Videos and Sexist Affronts
Washington Post Article 3/8/2016 – The Erin Andrews Verdict – it's not about the 55 million in peephole lawsuit
Boston Herald article 03/2016 – McGovern Huge Award to Erin Andrews a Wake Up Call for Hotels