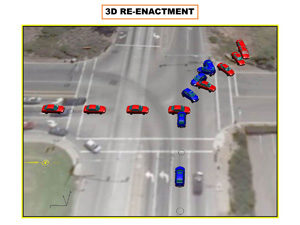 It is not uncommon for a person injured in a car collision to be faced with a dispute over who was at fault. If the facts are disputed and no witnesses are listed on the police report of the incident, how do we prove that the other driver caused our client's injuries? In short, we turn to technology and science.
First, we have found witnesses not listed on the police report by making a request for what is called the CAD Report on the collision. That report provides the first name and phone number of all people who reported the collision to 911, but who did not stay at the scene long enough to leave their contact information. Having an unbiased witness describe the collision can dramatically move the case beyond "He Said/She Said."
Another method employed is to engage an Accident Reconstruction expert to prove the theory of the case. In one case, physics and mathematically calculation were able to prove that a light auto was traveling twice the legal speed limit when it collided with and moved our client's much heavier truck as it was making a right turn onto the roadway. We were able to analogize the impact to how, through high speed at the point of collision, Seahawk Earl Thomas can stop much bigger and heavier players dead in their tracks upon contact. In that case, we were able to prove liability on the auto driver, even though our client had the duty to yield the right of way.
The third way we prove liability through technology is by tapping into the "black box" in the vehicles involved in the collision. The on-board computers on most vehicles built after 2005 can reveal important data, such as whether the brakes were applied or the vehicle's speed before the impact.
We have handled cases involving taxicabs where dash cams show the collision and interior cameras captured the driver's inattention for a split second just before impact. This technology is likely to become more common soon on passenger vehicles and will assist in determining responsibility for collisions.