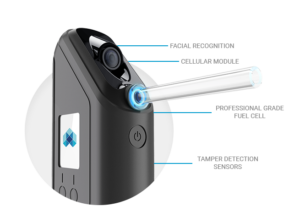 Alcohol is often a serious dividing issue in a marriage. Many times it is one of the most significant factors that cause couples to seek divorce. For couples with children, the problem that arises after divorce is that even if the parent without alcohol abuse gets the majority of the residential time with the children, the other parent (who abuses alcohol) will almost always still receive visitation time with the children. Therefore, the parent relinquishing the children to the alcohol-abusing parent is understandably scared to not only leave them in that other person's care, but knowing that they will not be there to protect them from potential bad behaviors as they might have done during the marriage. It would be great if there was some way that the parent could know that the alcohol-abusing parent is actually sober before handing the children off for the visit.
This is where the new product Soberlink comes in. Soberlink Cellular Devices test for the presence of alcohol in human breath and use facial recognition to confirm identity during each breath test. BAC results are wirelessly transmitted in real-time via Verizon's Private Network to Soberlink's cloud-based recovery management software. Clients can then customize notification and automated report settings for specified Contacts in their "Sober Sky Web Portal."
The current most common way that parents test for sobriety is by going to a lab, which is much more time consuming and costly. Further, it may be overly burdensome to require a parent to go to a lab before every visit, and it is almost certainly overly burdensome to require a parent to go get tested at a lab every single day.
With Soberlink, there are two different programs to monitor the sobriety of the parent. The first is where the parent is tested before each visit, which in some instances is sufficient. However, if daily testing is something that you want to have to be sure that the other parent is sober on a daily basis, they also have a daily testing program, which even sends text message reminders to the parent each day at the same time to take their test.
Therefore, the major advantages of this product compared to lab testing are: 1) convenience (testing can be done anywhere wirelessly); 2) real-time results (no waiting for lab results to come back); and 3) less expensive.
At Benjamin Law Group are always examining and seeking to incorporate new technological options like this device into our practice, which will help to keep children as safe as possible, and at the same time help to decrease the parent's worries.