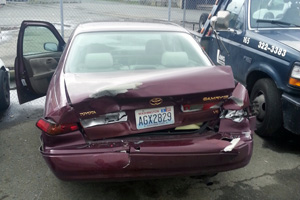 Disclaimer: It is important for you to realize that each case is different. You must not allow prior results to create any expectation about the results you might receive in your potential case. Some cases result in no recovery whatsoever. Nevertheless, the following list of some recent results in cases we have handled at the trial court level (as opposed to appellate decisions) may give you a better understanding of the types of cases we handle and the kind of services we provide.
 Click on the titles to read each success story

Personal Injury Auto Case
Wilkins vs. Tabao
Pierce County Superior Court No. 09 2 07758 0
Jury Verdict: March 4, 2011
Benjamin Law Group represented Mr. Wilkins in helping him to recover a jury verdict in his personal injury - auto case that was 5.6 times greater than the highest pretrial offer extended by the defendant's insurer.
Injury
Williams-Cyprian v. Emerald Paving, Inc.
King County Superior Court Cause No. 08-2-38022-0 SEA
Following the inadequate "final" offer by defendants' insurer to pay our injured client $12,000, we filed and prosecuted a civil suit that resulted in more than three times that amount being awarded at Arbitration in 2009 and over $30,000 recovered for our clients.
Legal Malpractice
Christensen v. Walker
Court of Appeals of Washington, Division II; Cause No. 29234-3-II
119 Wn. App. 1087, Not Reported in P.3d,
2004 WL 161596
2004 Wash. App. LEXIS 554, January 28, 2004
In this legal malpractice action against the lawyer for both husband and wife in a dissolution matter, we represented the former wife in suing the lawyer for malpractice when she did not receive child support, spousal maintenance or a fair parenting plan. After the legal malpractice case was dismissed by the Kitsap County Superior Court, we successfully obtained a reversal at the Court of Appeals, Division II. Following remand, the case settled for a confidential sum.
All-Terrain Vehicle Injuries
Arneson v. Wasatch Academy, et al.
United States District Court for the District of Utah, Central Division
Cause No. 2:05CV00741TC
With local counsel, Michael F. Skolnick, we represented the family of a student at a residential preparatory academy in recovering damages in a confidential amount for injuries sustained when the student was seriously injured while riding as a passenger on an all-terrain vehicle provided by and at the home of a faculty member of the defendant school.
Automobile Collision
Mendoza v. Lodermeier
King County Superior Court Cause No. 05-2-39680-6 KNT
Tried: November 29, 2006
Verdict: December 7, 2006
Following Farmers Insurance policyholder Lodermeier's appeal by trial de novo of an arbitration award in favor of our client, the case was tried to a jury over several days, beginning on November 29, 2006, in the King County Superior Court at the Regional Justice Center in Kent. The jury returned a verdict that was 50 percent better than the pre-arbitration offer and 15 percent better than the final pre-trial offer extended by Farmers.
Two Successive Automobile Collisions
Mihara v. Mak
King County Superior Court Cause No. 05-2-16467-1 SEA
Decision: February, 2006
Our client was involved in two successive collisions, two weeks apart, in April of 2004. In each collision, the other driver was solely at fault. Because the treatment overlapped between the first and the second accident, each insurer attributed much of its liability exposure to the other. We brought suit against both parties in the same case. The Arbitrator granted an award against one driver of $16,250, an improvement from the $5,500 offer; the other award was for $32,500, an improvement from the $11,000 offer. No appeal was taken from the Arbitrator's award.
Legal Malpractice
Wiggenhorn v. McManus
Snohomish County Superior Court Cause No. 03-2-10422-0
Mr. Wiggenhorn sued his former lawyer for failing to advise him that he was agreeing to provide his wife with far more spousal maintenance than any Snohomish County trial court would order. After we succeeded in resisting the defendant's motion to dismiss, the client obtained a satisfactory settlement in mediation.
Legal Malpractice - Failure to Deny a Request for Admissions
Payne Engineering v. Lawrence Craig Cary Smith
United States District Court for the Eastern District of Washington
Cause No. CS-3-0320-RHW
A West Virginia corporation sued two of its former lawyers for legal malpractice in connection with the lawyers' failure to deny a request for admissions issued by the other side in the underlying case in a timely manner. Despite winning the underlying case on the merits both in arbitration and at trial, the court of appeals reversed, and a substantial verdict was returned against Payne Engineering, based on its failure to deny the admissions that went to the core of the underlying proceeding. Settlements were obtained from both law firm defendants.
Metro Bus Collision
J. C. vs. King County Metro
King County Superior Court No. 14-2-24295-6 KNT
While riding on her normal commute home from work, J. C. was thrown onto the floor of the bus when a replacement transit driver jumped the bus up a curb.


Although she was thought to have possibly sustained a head injury, her regular health care provider, Group Health, did not follow up and fully treat the patient, apparently hoping she would get better on her own. After filing suit against Metro, Benjamin Law Group recovered more than $27,000 on behalf of J. C. in a 2015 arbitration based upon medical treatment expenses of only $1,706.45.