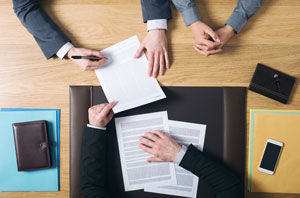 An Estate Plan is an important milestone in becoming a responsible adult because it allows you to control what happens to your property and your person. Here are nine excellent reasons for young people to have an estate plan (and they have very little to do with money!):
1) You are entering the military. Anyone entering the military, at 18 or any other age, should make sure his or her affairs are in order. Even for an 18-year-old, that means creating a will and other basic estate planning documents like a health care directive and powers of attorney.
2) You received an inheritance. You may not think of the inheritance as your asset, especially if it is held in trust for you. But, without an estate plan, the disposition of that money will be a slow and complicated process for your surviving family members.
3) You own an animal. It is common for people to include plans for their pets in their wills. If the unthinkable were to happen and you died unexpectedly, what would happen to your beloved pet? Better to plan ahead for your animals in the event of your death. You can even direct the sale of specific assets, with the proceeds going to your pet's new guardian for upkeep expenses.
4) You want to protect your family from red tape. If you die without a will, your family will have to take your "estate" (whatever money and possessions you have at the time of your death) through an involved court process known as probate. A couple of basic estate planning documents can keep your estate out of the probate court and get your assets into the hands of your chosen beneficiaries much more quickly.
5) You have social media accounts. Many people spend a great deal of time online, conversing with friends, storing important photos and documents and even managing finances. Without instructions from you, will your family know what to do with your accounts?
6) You want to give money or possessions to a significant other, friend, or charity. When someone dies without a will, there are laws that dictate who will receive any assets. These recipients will include immediate family members like parents, siblings, and a spouse. If you want to give assets to a non-married partner, friend, or charity, you must protect your wishes with a will.
7) You have a family member whom you do not want to receive money from your estate. Many people have some family member that is estranged or that they are not on good terms with for any number of reasons. By making your distribution wishes known through a will, you are able to prevent that person from taking from your estate, whereas without a will, that person might very well take the same or more than other, closer relatives.
8) You have children. A will is the only place to nominate a guardian to care for your children. If you do not need a will for any other reason, but you have minor children for whom you want to name guardians, you should make a will. If you die without a will, a court will decide who should care for your kids, potentially leaving them with people that you do not favor.
9) You engage in dangerous activities. Let's face it, while old people have more sickness, young people are the ones ski-jumping off cliffs, skydiving, swimming with sharks, and traveling the world (often solo) in potentially dangerous cities. It is not fun to appreciate our mortality, but with the types of activities young adults engage in, it makes sense to take care of estate planning before a catastrophe, rather than after one, where there may not be time to do anything.
10) You care about what happens to you if you are in a coma or persistent vegetative state. We all see the stories on the news – ugly fights within families over the bodies of critically ill children or siblings or spouses. Another essential Estate Plan document besides the Will is the Healthcare Directive (also called a living will), where you can lay out all of the nuts and bolts of your end of life care, such as whether you want artificial nutrition or hydration. This document is especially important if you have a life partner to whom you are not married, so they are legally able to make healthcare decisions on your behalf, perhaps over the objection of family members. The final critical document is a financial power of attorney, which allows a trusted person to handle your financial issues, such as paying your bills, while you are temporarily unable to do so.
Sources:
http://www.nolo.com/legal-encyclopedia/why-is-it-important-make-will.html
http://law.freeadvice.com/estate_planning/wills/wills-young-adults.htm
http://uniqueestatelaw.com/lawyer/2013/06/24/Beneficiary-Designations/8-Reasons-Young-People-Should-Write-a-Last-Will-and-Testament_bl8456.htm